Now you can manage your
Bookkeeping

Finances

Human Resources and

Data processing
...without a staff!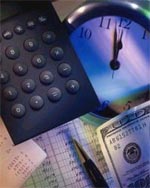 The One Source for Outsourcing
Sharpp Data Management is your single source for a full array of financial and administrative services. Our highly trained and competent staff handles your work off-site, reducing your management time and overhead.
Bookkeeping – Whether your bookkeeping requires two or more employees or just a part-timer, we can provide total services including: payables, receivables, check writing, time and expense reporting, general ledger, and more.
Finances – We can help manage your finances with sound cash management systems, job tracking, inventory control, account balancing, and a myriad of regular monthly reports, customized to your needs.
Human Resources – For some clients, we organize and maintain employee records, tracking the details of new hires, reviews, raises and terminations.
Data Processing – A variety of customized services are available for word processing and database management.
Office Organization – Some clients need help implementing sound office management systems. We can provide short-term staffing solutions that provide long-term results.